The content of the article
What is Exness?
Exness is a reputable Forex broker with a long history. Exness was founded in 2008 from a group of experts in the financial sector of the Czech Republic, the world's largest financial center. In addition, Exness has offices located in other countries such as the United Kingdom, Seychelles, South Africa, Curacao, British Virgin Islands, Singapore and Malaysia.
Currently, the Exness Group is operated by many legal entities including Exness (SC) Ltd, Exness B.V, Exness (VG) Ltd, Exness ZA (PTY) Ltd,…
Since its launch until now, Exness has become a reputable forex broker and achieved a lot of admirable achievements with impressive numbers, according to statistics in August 2022:
Trading volume in August 2022 reached US$2.811 trillion.
More than 360,785 active customers during the month.
US$984.9 million in customer withdrawals in the second quarter
More than US$88.6 million in partner bonuses in the second quarter
See also: " How to register for an Exness account"
Why is Exness a Forex broker trusted by many traders?
The credibility of an exchange is always a top concern for traders. Because a reputable exchange will ensure the best benefits as well as quick support when problems occur. So why is Exness a reputable broker? To answer this question, we will go to the following reasons:
1. Operation license:
As introduced above, the Exness group is regulated by many legal entities around the world. These entities are all licensed to operate by the financial authorities of the host country. As follows:
Exness (SC) Ltd is authorised and regulated by the Seychelles Financial Services Authority (FSA), under license number SD 025. This is an independent body and organization responsible for licensing, regulating and issuing financial regulations in the Seychelles.
Exness (UK) Ltd is authorised and regulated by the Financial Services Authority FCA in the United Kingdom, license number is 730729. The FSA is responsible for licensing financial companies across the UK.
Exness (Cy) Ltd is licensed by the Czech Securities and Exchange Commission (CySEC) – the Supervisory Authority for investment services in the Czech Republic, with license number and 178/12.
Exness ZA (PTY) Ltd is licensed by the Financial Industry Conduct Authority (FSCA) in South Africa, with registration number 2020/234138/07 and FSP number 51024.
Exness B.V. licensed and regulated by the Central Bank of Curaçao and Sint Maarten (CBCS) under license number 0003LSI.
Exness (VG) Ltd is authorised and regulated by the Financial Services Commission (FSC) in the BVI – a British Virgin Islands with registration number 2032226 and investment business license number SIBA/L/20/1133
Exness (MU) Ltd is licensed by the Financial Services Commission (FSC) in Mauritius, registration number is 176967 and business license number is GB20025294.
In particular, the reputation of Exness is shown through 3 types of class 1 licenses: FCA, FSCA and CySEC. This is the guarantee Exness is an international forex broker, global reputation for players to feel secure when participating. However, it is a small note that Exness Group does not provide services to persons residing in certain jurisdictions, including the United States.
2. Exness Awards
"Best Trade Execution"
"Best Order Management"
"Best Mini Broker"
After more than 1 decade of operation, Exness has also achieved achievements that not all Forex brokers can achieve. That is not only the pride of Exness but also speaks of the trust of customers for Exness for many years. Typically, some prizes are often awarded by financial magazines in New Zealand as follows:
3. Compensation Fund
Exness is a member of the Financial Commission – an international organization dedicated to resolving disputes in the foreign exchange market. This compensation fund acts as an insurance policy for customers and is paid out at the discretion of the Financial Commission. Accordingly, each Exness client will be insured up to €20,000.
4. Independent audit
All Exness financial reports on trading volume, client withdrawals, partner bonuses are transparently published on the website. In addition, audit activities are carried out by Deloitte – one of the world's leading auditing firms.
Exness Offers a multi-platform trading system
Exness currently offers a trading system based on 2 of the world's most popular trading platforms, Meta Trader 4 (MT4) and Meta Trader 5 (MT5). There is also a promising trading platform with a modern interface on the web browser, MetaTrader WebTerminal , and on mobile , Exness Terminal. Let's take a closer look at each of these platforms with Blackmantrader
MT4 Platform:
Overview:
MetaTrader 4, also known as MT4, is an online translation platform used by retail traders in the forex market to trade Forex, analyze financial markets, and get mentorship from experts. Developed and released by MetaQuotes Software in 2005, MT4 is divided into two parts: client and server. Servers are run by brokers and clients are provided to the broker's clients. Through MT4 they can view live streaming prices and charts, place orders and manage accounts.
Outstanding features of MT4:
Offers more than 200 trading instruments and 6 asset classes
Low spreads from 0.0 pips
6 types of pending orders (Buy Stop, Sell Stop, Buy Limit, Sell Limit, Take Profit, Stop Loss)
9 timeframes and 3 chart types
Multilingual platform interface
Instant execution and market execution
50 pre-installed indicators
Encrypted security
Move stop losses, technical analysis and customize indicators, advisors (EAs) and scripts
Built-in support guide.
The platform is completely free, to trade on MT4, you have to download the application to your computer or mobile phone.
See also: " How to connect your Exness account to MT4"
MT5 Platform:
Overview:
MetaTrader 5 is a trading platform developed by MetaQuotes Software company, which released the MT4 platform. MT5 was put to the test in October 2009, but was not officially launched until September 2010.
Through MT5, users can trade multiple assets such as Forex, Stocks, Futures… In addition, MT5 offers superior tools for price analysis, support for algorithmic trades, expert advisors and copy trades.
Outstanding features of MT5:
MT5 supports hedging, allowing multiple positions to be opened in the same and opposite directions.
Provides powerful trading system with high market depth and control system for trading orders.
There are 4 order execution modes available: instant execution, request, market execution and exchange.
Supports all types of trading orders: market, pending and trailing stop orders.
Allows opening 100 charts at the same time, 21 different timeframes from 1 minute to 1 month, helping traders analyze the market most comprehensively.
Built-in 38 technical indicators and 44 graphical objects for detailed analysis of price dynamics.
MetaTrader 5 supports three types of charts: lines, bars, Japanese candlesticks and can be easily customized colors, add analytical objects, indicators in the same chart
Fundamental analysis with news from international news agencies, integration of economic calendar and information on economic indicators
MT5 offers algorithmic, automated trading through trading robots. These built-in robots can analyze the prices of financial instruments and execute trades in the forex market.
Support multi-platform trading via website, mobile phone and computer.
Offers free and paid signal sharing. Based on that, investors can easily place orders without spending time on technical and fundamental analysis.
MT5 also offers copy trading from successful traders, or you can also share your own trading activities with others.
Web Trading/ Exness Terminal Platform
Overview
Exness Terminal is an HTML 5 web application developed by a team of technical experts of Exness Platform. The platform is rated safe and easy to use even for inexperienced people.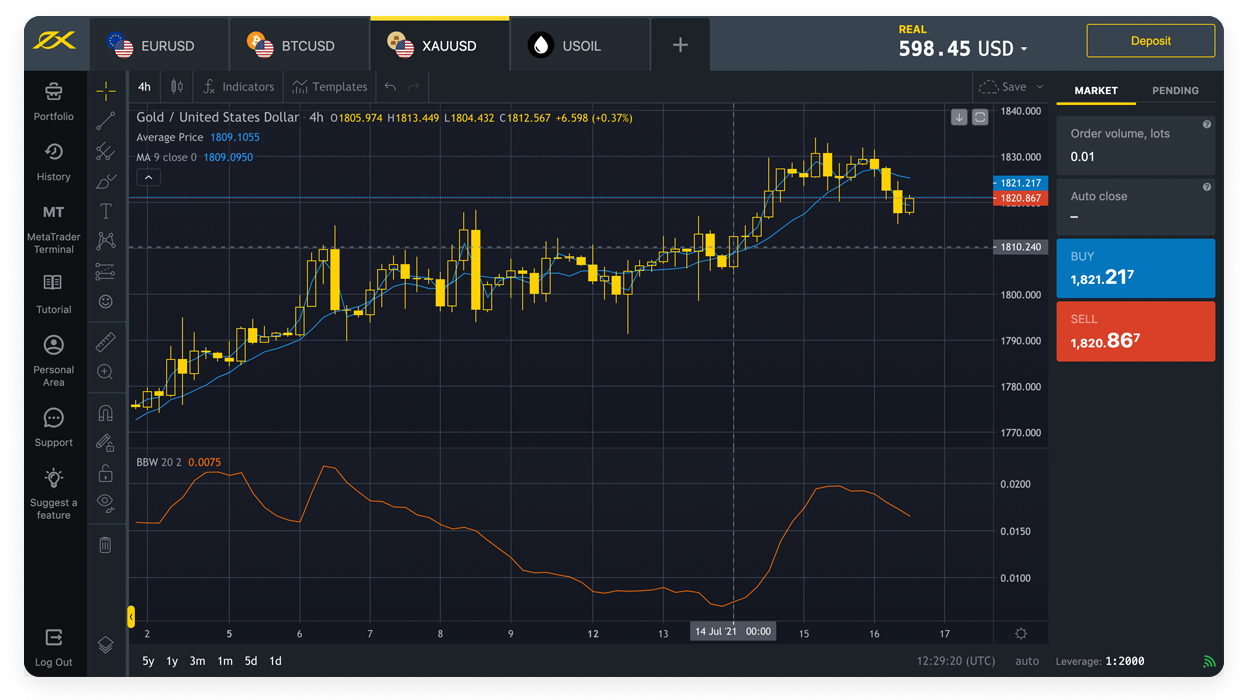 Salient features:
Exness Terminal offers more than 50 drawing tools and 100 indicators.
There are 3 types of charts: Japanese candlesticks, bars, lines provided by tradingview.
8 types of pending orders similar to MT5 such as Buy Stop, Sell Stop, Buy Limit, Sell Limit, Take Profit, Stop Loss, Buy Stop Limit, Sell Stop Limit
Investors are allowed to trade directly on the world's leading platforms from a web browser without downloading it to a computer. MetaTrader WebTerminal supports all devices, operating systems, provides full features of MT4/MT5.
Exness Trading Account Types:
Exness offers a wide range of account types for all users from beginners to professional traders and caters to all users' needs. Let's find out with Blackmantrader:
Standard Account
The feature-rich, commission-free account is suitable for all traders, including newbies. Highlights include market execution, stable spreads and no requotes.
Standard account types at Exness include:
Standard
The most popular! Great account for all traders
Spreads from 0.3
No commission
Minimum deposit 15$
Standard Cent
Standard account with micro batches. Suitable for newbies
Spreads from 0.3
No commission .
Minimum deposit 15$
Standard Plus
Exclusive account! Enjoy value-added services now
Spreads from 1
No commission
Minimum deposit 1 USD
Stable spreads do not widen when the market fluctuates strongly
Pro Account
These accounts meet the needs of the most experienced traders. Highlights: super low spreads or even no spreads, execution suitable for scalpers, day traders, and algorithmic traders.
Professional account types at Exness include:
Pro
Fast execution and little slippage. There may be requotes in volatile markets
Spreads from 0.1
No commission
Minimum deposit 200 USD
Zero
Enjoy zero spreads during 95% of the trading day with 30 currency pairs
Spreads from 0
Commission from 0.2 USD per lot for 1 way
Minimum deposit 200 USD
Raw Spread
Lowest raw spreads and low fixed commissions.
Spreads from 0.
Commission up to 3.5 USD per lot for 1 way.
Minimum deposit 200 USD.
See more: » How to deposit and withdraw the platform
Exness Trading Fees
Exness' goal is to create the lowest possible low-cost trading environment for its clients. Especially, there are no hidden fees, no account management fees and deposit – withdrawal fees. So when trading at Exness, you don't need to worry too much about costs. Specifically, the fees at Exness include.
Super low spreads
The spread is the difference between the buy and sell prices, calculated in pips. When trading at any forex broker, traders need to take this spread into account. Exness spreads are relatively pleasant, depending on the account type and trading product. In particular, the standard account has spreads from 0.3 pips, while professional account types have spreads from only 0.0 pips.
Swap-free
Swap – this is a fee for investors to hold a position overnight. However, Exness has decided to eliminate swaps for most trading instruments, including major currency pairs, stocks, cryptocurrencies, indices, and gold.
Exness commission fees
As shared above, Exness commissions are only charged for professional accounts. Separate with standard accounts will be free.
Raw Spread Account: Up to $3.50 per lot/1 way
Zero account: From $0.2 per lot/ 1 way
Pro Account: No commission
Exness offers unlimited leverage
Leverage is a tool that amplifies capital for investors, allowing them to trade large volumes with only a very small deposit. Exness does not limit the maximum leverage, however, the use of leverage is the same as 2-edged sword, so if you are a new investor, we recommend that you do not use too high leverage, because if you do not manage your capital well, it is easy to burn your account.
Depending on the level of leverage, margin requirements will also vary. According to Exness regulations, margin is regulated as follows:
| | | |
| --- | --- | --- |
| Leverage level | Account Capital | Margin requirements |
| Unlimited | less than $1000 | 0% |
| 1:2000 | from 1000 to 5000 dollars | 0,05% |
| 1:1000 | from 5000 to 10,000 dollars | 0,1% |
| 1:600 | from $10,000 to $30,000 | 0,17% |
| 1:400 | from $30,000 to $60,000 | 0,25% |
| 1:100 | from $60,000 to $200,000 | 1% |
The formula for calculating the margin depending on the leverage will be: Margin = Lots x Contract Volume / Leverage Level
See also: " Leverage and Margin in Forex"
Customer Support at Exness
Exness is a reputable and quality broker, so the customer support at Exness is also extremely professional. The platform always emphasizes customer satisfaction, so all customer problems or questions are handled as quickly as possible.
Exness' customer service staff can support clients in 15 different languages, including Vietnamese, so it is very convenient for Vietnamese traders. However, Vietnamese support is only from 2nd to 6th, on 2 weekends you will be supported in English.
Conclusion on Exness
Exness is currently the market leader in terms of service quality and number of clients participating. This is also a safe choice for investors. Blackmantrader hopes that through the above objective reviews and reviews of Exness will help investors have more information about Exness and peace of mind to trade here.